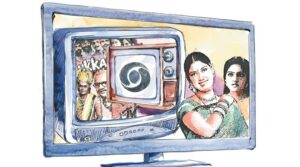 The Indian government has notified a new rule that mandates all TV sets being manufactured in the country or being shipped to have in-built digital satellite TV tuners capable of receiving signals from free to air (FTA) broadcasts without the help of a set-top-box.
The notification, issued by the Ministry of Electronics and IT (Metity), is dated April 26, 2023, and -according to Indian TV and broadcast sector observers- would largely benefit public broadcaster Doordarshan's FTA DTH service, FreeDish.
The next logical step for the industry would be to adopt CI Plus 2.0 / USB CAM as a mandatory feature as recommended in April 2020 by the TRAI.
Indeed, whilst several PayTV operators are launching some prototypes of USB CAM to combine with their STBs, such device should also be considered to be used with all the TV sets, now that the cost burden is off the table with the in-built satellite tuner support.
CI Plus 2.0 / USB CAM answers several issues faced by the stakeholders:
– From a business and economics standpoint: this alternative device is smaller and lighter therefore cost-effective regarding logistical and storage issues; without compromising customization and branding as we all have seen plenty of different USB shapes over the last twenty years.  This new form factor can also favor new business models with TV manufacturers and expand market reach significantly.
– From an industry standpoint, USB device manufacturing is not complex! It only demands a small hardware effort as USB slots are ubiquitous in the market and require less space on the boards of TV sets. In addition, it will encourage local manufacturing and preserve national activities as the production could be undertaken locally by any CE vendors.
– From an ecological and sustainability standpoint, the USB seems to be a better solution as it would reduce the carbon footprint as well as e-waste management. Given the weight, size and limited power consumption, ten times lower than a decoder, the USB CAM is a perfect match.
– From a security standpoint, the USB CAM is considered a secure device being compatible with CI Plus ECP requirements. Even better, it doesn't use any HDMI interface unlike a STB.
– From a technological standpoint, this device is future-proof as it is compatible with any existing resolution and can be combined easily with OTT application required by Pay-TV operators and supported by TV manufacturers.
So definitively India and Pay TV operators should consider USB CAM as their next device for their consumers to enjoy watching Pay TV contents on top of FTA content without the need of a STB.
Source: https://www.indianbroadcastingworld.com/govt-makes-it-mandatory-for-tv-sets/
Illustration: Subrata Dhar for the Indian Express